I am making her a thread! I have a few questions about her, some of which I can't ask until later when I upload the video of the behavior lol. She is doing very well though. My mom has it in her head that she can be an outside cat at home, which I don't think will work haha! I still have to get her fixed too! I just havent gotten a chance yet. Anyway, wanted to post some photos! Also, what do you call this color tabby? I mean, I called Caddy a grey tabby, but his wasn't really tabby at all, he was more grey with lighter grey marbling.... I dunno. Also, she reminds me of something, I can't quite place what breed, but her face is very distinctive and different than Riot's. She's also a tad cross-eyed. Also, I made the pics previews to save yalls load time! I like pics ya know haha! if you wanna see them big, click them. If you wanna see moooore....
http://s7.photobucket.com/albums/y291/PeauxnyLover/Zoot%20Suit/
from skinny and scared
to healthy and...timid?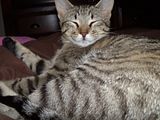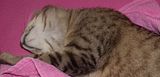 She enjoys grooming Riot...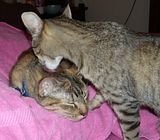 Though Riot usually reacts by attacking her. They loooove wrestling.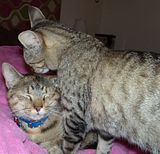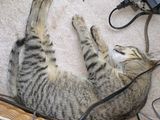 these I just took tonight! taking pictures of a kitten with no flash is very difficult.
gave up and turned on flash haha!