Some of you may know of me from other forums, but for those of you that don't, I'm Maria. I have 2.5 horses. the .5 is a horse named Bow, a 30-something year old Morgan gelding. He is actually owned by my dads best friend but has been in my care on and off for the last 10 years, which is why I consider him half mine. He is rude and pushy but a BLAST to ride. In photos, he is the lighter bay with the star and socks. Loads of bone and massive feet. Back in the day he was a hunting horse and obviously when I say hunting I mean, pack trips to the mountain to bring home a bull elk type deal. I find him interesting in that he doesn't like to be bathed and wont go near the water trough while it fills... but will happily cross rivers and go for a swim in the lake with you. My main man is Guss, a 20-something year old grade QH gelding. He is dun with loads of dun factor with a star and snip. and the reason I am partial to duns. He is extraordinarily picky about riders, if he doesn't like you... you'll know. However, if you throw a beginner on him and point him at a trail he will take care of them. He is the loner of my group, always off on his own because he is too grumpy to put up with Bow the mean boss horse and Jess the annoyingly playful Thoroughbred. Guss is my heart horse... I think that we all have at least one horse in our lives that means everything to us. He is mine. He has done everything from work cows to pony racehorses neither of which he liked. He is happiest on the trail and tolerates the rare gymkhana! The last is Jessie, a 6 year old thoroughbred mare, Dark bay with a small star and whit spot on her upper lip. She is the tallest of my group and my second favorite after Guss. Jess means a lot to me even though we don't always get along very well. She was a gift from my grandpa. We got her at an auction as a long yearling for $100.00. She is actually(in my opinion) very well bred, though she isn't registered. I do have everything I need to have her registered...except the money.She is leggy and awkward looking but I love her anyway. I think the reason she looks so awkward is that she is pigeon breasted and has a pencil neck... which has improved since we got her. She is only lightly started in both English and western, though judging by the way she tends to behave under saddle it seems that she prefers western. I think I got lucky with her, she keeps weigh on better than most TBs i know, she is accident prone but amazingly she ISN'T injury prone so she tends to walk away from things with minimal effect.
http://www.pedigreequery.com/valour+n+victory
I may even throw in pictures of Cappuccino (Cap, cappy, cap-n-crunch) an 11 year old Dun Appaloosa that I was paired with at my job last summer in Jasper Alberta. As a general rule, I cant stand appys... this horse is the exception.. grumpy as hell and cinchy too but He found a place in my heart and I REALLY wish that I could own him. Unfortunately he "isn't for sale and wont be". anyway enough typing, here are some photos!
ZERO effort for her to outrun the boys
My friend working with her
Gusser
8 years ago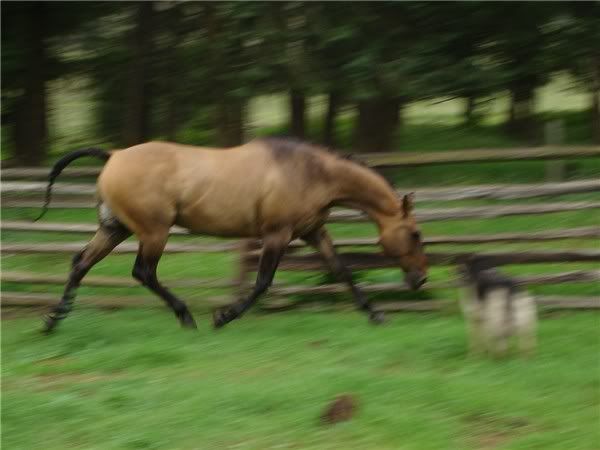 Bow
20 year old photo
Cap waiting for our next ride.
Cap isn't a big horse and here is Jake standing behind him. The barn alleys were kinda narrow for the ammount of horses :s but thanks to patient horses no problems thankfully.