I just got a new 2 year old purebred Arabian gelding (HE IS NOT THE EPM HORSE) but won't pick him up for a couple of more days. We were supposed to go today but it has rained SO much and when Eddie went out to hook up the trailer the hitch had come off the block and washed down the driveway. So the pole was deep in mud.. Uhhhh... Never fails... He is a GORGEOUS rose grey but will be pretty light grey with a darker mane and tail like his sire. He is straight Egyptian bred and is so calm for being both an arabian and his age. Morgan will be showing him in halter/showmanship until he is old enough to start under saddle. His sire is: FIRDAUSI and his dam is DESERT SUEZ. Here is the flyer for his sire's 2003 breeding fee and info.
http://www.ak-stalliondirectory.com/a-listingsF/Firdausi.html
Here are pics of his sire (grey), dam (chestnut) and one head shot of my new boy. I need to get some pics of him this week. I need a name too. I don't like his barn name because it is the same as an ex-boyfriend of mine! lol. I know most of you are NOT arab people (or TWH) but we are really happy about getting him. My Boy: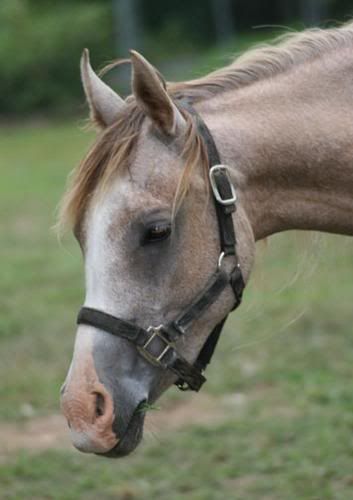 His pedigree. I can't get it to display correctly but here are the names!
SIRE FIRDAUSI Gr 1996
AHR*534777 ZEDANN* Gr 1972 MORAFIC* Gr 1956 NAZEER* Gr 1934 MABROUKA* Ch 1951 OMNIA* Gr 1966 ALAA EL DIN* Ch 1956 AMEENA* Gr 1951 MALKATA Gr 1992 BKA IMEER Gr 1983 ANSATA IMPERIAL Gr 1976 IMPERIAL MISTIC Gr 1979 REG MADAHA Ch 1982 THE EGYPTIAN PRINCE Gr 1967 AK NASULA Gr 1976
DAM DESERT SUEZ Ch 1994
AHR*505682 RAMSES RASUL* Ch 1978 RAMSES FAYEK* Gr 1958 NAZEER* Gr 1934 FAYZA II* Gr 1951 RAMSES SADAKA Gr 1974 SEEF* Gr 1959 YOMNA Ch 1969 WADIAH Ch 1982 EL HADIYI* b 1966 *ANSATA IBN HALIMA ++ gr ++ 14.3h 1958 SAMMARA* Gr 1960 BINT ELWADI Ch 1976 DALUL* Ch 1968 BINT-SET-ELWADI Bay 1972 Standing: Firdausi [Zedann X Malkata] Firdausi Firdausi is named for the 10th century Persian poet who penned the Shah-namah. This epic poem, in 60,000 verses, is the first great work of modern Persian literature. It is one of the masterpieces of world art. The word firdausi is the Persianized version of the Arabic work al-fardos, roughly translated as perfect garden, or heavenly garden.
Firdausi was bred by Melissa Huprich [Lotus Bloodstock]. Suez was bred by Melissa's father.
PICS: