PamelaTX
April 13, 2009 February 22, 2011
Forums
This a colt I sold back in October. These are some of the last decent pics I took of him in September.
Taken from a distance.
I have to say he really blossomed from when I 1st got him. The day I brought him home.
2 1/2 months later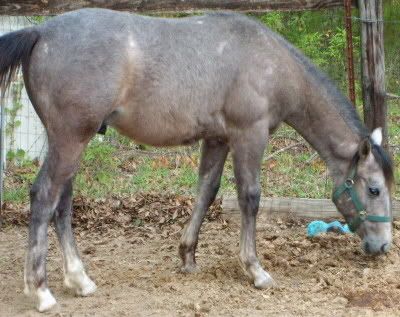 Easter '08
June '08
August '08
Guess thats it. http://www.allbreedpedigree.com/nu+dusty+hancock" onclick="window.open(this.href);return false;
I really like his head and expression. Decent shoulder I think, the thing that really sticks out to me is he has High Stifles or a Short Hip and a long gaskin/short femur :
* Ideal hip forms equilateral triangle from point of buttock, point of hip, and stifle. A short hip has a short femur (thigh bone) that reduces the length of quadriceps and thigh muscles. The femur is short when the stifle seems high (sits above sheath in male horse)
* Found in any breed, but usually in racing Quarter Horses or Thoroughbreds.
* Effective in generating short, rapid, powerful strokes (sprint or draft work). The horse has a rapid thrust & thus rapid initiation of sprint speed.
* Ideally, the bones of the gaskin and femur should be of similar length in horse that does anything but sprint or draft work. A short femur reduces stride length behind & elasticity of stride that jumpers, dressage horses, and flat/harness racers want.
So. Does he race? ;)
Well he's a cow bred horse so that short bursts of speed would come in handy....& he's very fast & very athletic!!
Dunno what his current owners are doin with him. Still waiting on an update & pics.
Yeah I love his head....he finally grew into it & once he started gettin his stud jowl really helped.