my big belgian mare I owned that is... I bought Big Momma after my TWH mare Libby died. I wanted a project horse and Libby's foal was only 3 months old. So I bought a big 10 y/o Belgian mare to train under saddle. Only thing..she didn't care much for someone on her back...ground driving and dragging stuff she was fine...but I wanted a riding horse.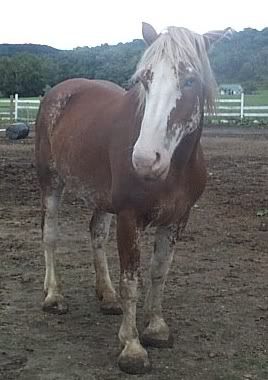 So I sold her to a gentleman who raised haflingers and he planned on finishing her off to drive. Have always wondered what became of her..and will sometimes just google Clairlea's Royal Splash (her reg. name) did that today and this popped up...an '09 foal of hers for sale!
http://www.draftsforsale.com/ShowAd/index.php?id=4c20ea221babc
" onclick="window.open(this.href);return false; I sent an e mail to him in hopes that I can hear how she's doing...no harm in that. Also told him I had a couple of pics of a foal she had previous to me owning her if he was interested in seeing them.