Just after we moved here, I found a swallows nest on top of a light fixture outside my bedroom. The next spring, a family of swallows indeed moved in. In my enthusiasm, and hoping that they would build a new nest, I removed the old nest that next winter. Only for the swallows not to return. :(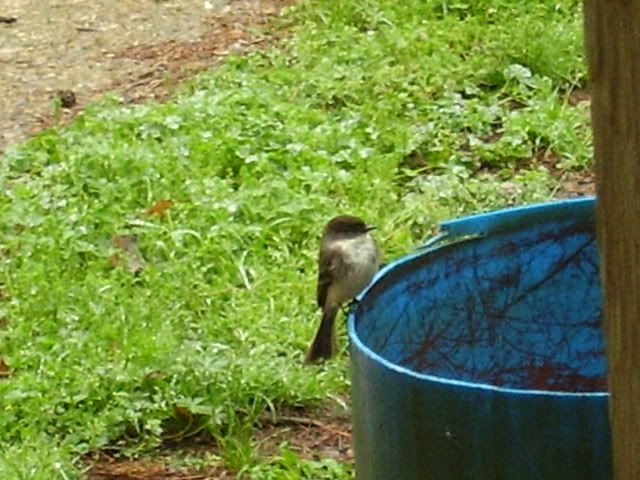 Instead, they selected another light fixture, this time straight above my front door under the awning. Good spot for them, safe from squirrels and cats. One seison and two batches of babies long, we had to duck on the way to the door, because the sitting parent would inevitably fly off, and straight at us, upon our approach. But the babies grew like weeds and we enjoyed them. 8-)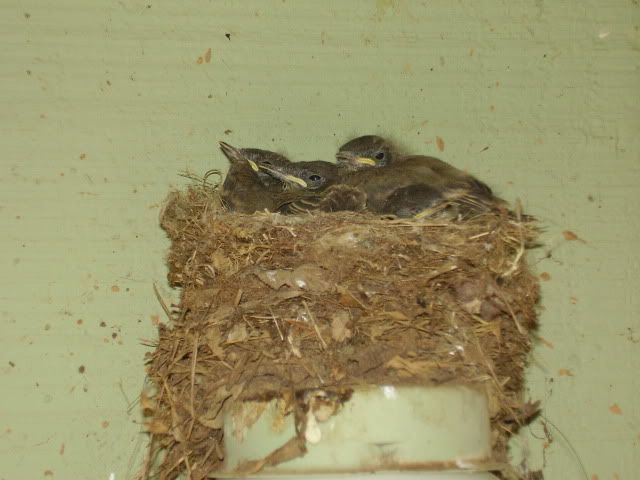 This time, I did not remove the nest, even though it is quite ugly up there. And the swallows are back in the same nest. For over a month now, I have been having to dodge swallow traffic at my own front door. I took this picture of one of the fuzzies yesterday.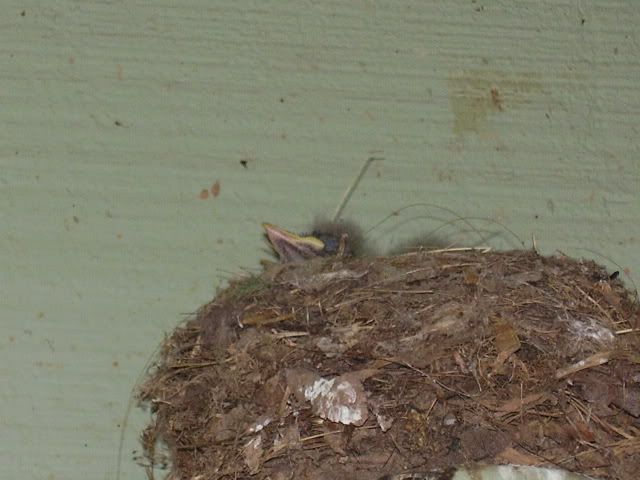 This morning, while I was taking my dogs out, I heard a lot of commotion. I went to look, only to find my swallows totally besides themselves. No wonder! :evil: ................. I was shocked to see what is curled up above my head. I was almost sure it was too late, but I could not stand by, doing nothing. So I grabbed my lunge whip and started beating him as hard as I could. He finally decides to drop to the ground, not making me feel much better with a very mad adversary now on the ground. But his strikes at the whip are of course useless and he finally decides that I am crazier than he is. Shooting would not have been an option that close to the house. Besides, it would have been a rude awakening for my husband who works graveyard shift. :shock: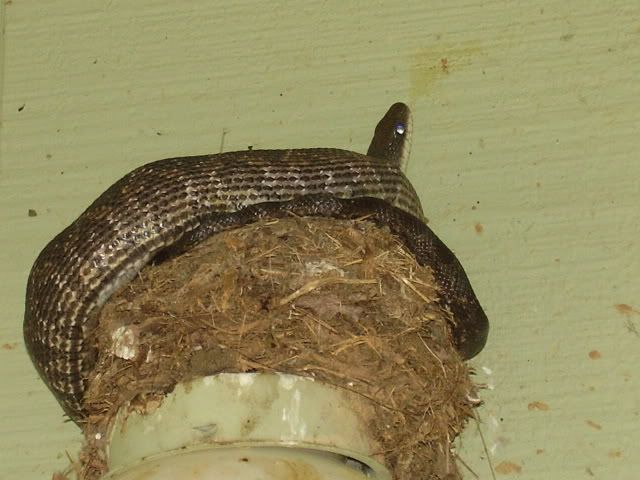 I feel sure that the damage was irreparable.
(I imagine seeing proof in the picture too)
:? The swallow parents came back and screamed for another hour. By now, it is extremely quiet above the front door. That I will not go in or out of with a safe feeling for while, because you keep expecting your unwelcome guest to be back. How he got up there you ask? It must have been my fault. :oops: I had used a broom yesterday and left it by the front door. From the broom to the bell to the top of the door frame to the light above the door. I think. Because if not that, I would have to assume that they can climb straight walls. And that would even be worse! :x